Do you have a child motivated by movement and song? I do! In fact I have a handful of girlies that love music to listen to that were ready to help me with this review. You will be very interested in our newest review… Happy Kids Songs teaching character, social, and emotional skills. We listened to downloadable songs Friends & Sharing (Set 1),  Happiness & Attitude (Set 5),  Manners & Character (Set 6), and a workbook Happy Kids Songs Workbook: Hands-on Activities to Build Character, Social & Emotional Skills. The song and workbook together made for a fun entertaining time.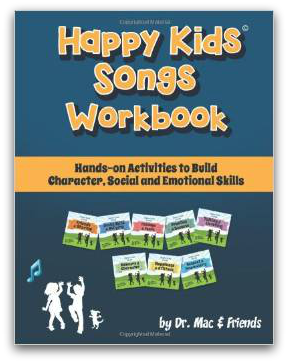 Workbook pages that include coloring to simple word puzzles.
The workbook is meant to be used with the songs. I found the workbook to be a real advantage to the songs. When I played the songs for my little girlies it was fun to follow up with the fun workbook pages. In the back of the workbook you will also find suggestions on family fun ways to follow up the song and make your point. Additional ways to make these songs enrich teaching the great attributes of sharing, caring, manners, and social skills.  
Note—
I should have copied the pages from the workbook instead of letting the kids color directly on them. It could have then used it with all my girlies. The copyright is family friendly and will allow you to make copies and use it with all your kids (classroom/co-op use but not commercial). The songs can be burned to CDs, but will come via download.
You can use the songs via the computer like we did. I started the day off with a song to encourage conversation and movement or played a couple over lunch. The girlies would color and fill in the workbook pages either while they listened or afterwards as we settled down.
Are you van-schooling a lot? Then burn it off for your personal CD. Back in my therapy van-schooling days this would have been a great option.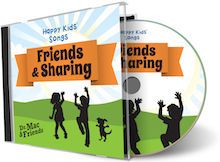 example: Sharing Friends- Including others in play
Audios can be bought in several forms
Amazon or iTunes through their page HERE.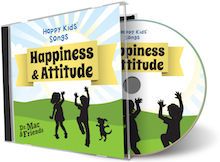 example: Be Good to Yourself- Pathways to happiness
You can also buy the songs in the whole CD or single songs.
You can try out these songs and activities HERE.
The songs and workbook are compelling, especially when you see 'social skills', listed. This is a great fun set of songs and workbook. The program was designed for a  child that basically understands the concepts of manner, social skills, sharing etc but needs tweaking and refinement. There is worth for teaching your child through this song series.
Format:
downloadable (songs) and a physical workbook
Age Range: 3-8 years (but you can stretch the age range either way a few years easily)
Cost: Downloadable $4.95 or .99 cents per single songs, workbook $12.56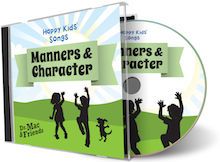 example: H-o-n-e-s-t-y  The value of honesty
Happy Kids Songs on social media:
Facebook: https://www.facebook.com/happykidssongs
Twitter: @howsyourfam
YouTube: www.youtube.com/user/4DrMacMusic
Find out how other families felt about Happy Kid Songs. Click on the link below!